border:none 2013
A non-profit mini conference spinning out of the Open Device Lab community, dedicated to finding new ways of thinking, designing and using the increasingly versatile web.
​
Orpheum

-Lichtspielhaus
,
Johannisstraße 32a

,

Nürnberg

,

Bayern

,

Germany
We're happy and proud to bring to you the very first border:none 2013, a non-profit mini conference spinning out of the Open Device Lab community, dedicated to finding modern ways of thinking, designing and using the increasingly versatile mobile web.
Together with the first-ever ODL Admin Meetup, we try to draw even more attention to the ODL movement and would love to see you being part of it. Let some extraordinary speakers push the borders of your horizon – meet us at the Orpheum!
We strongly believe that the speakers we could win over – talking about their ideas, sharing their experiences and showing their fantastic work – are among the best in their field. It is therefore all the more pleasing that we managed to bring all this to you for just a small expense contribution of € 30,-- (incl. 19% German VAT). Many thanks to our great sponsors for the generous support!
Please be aware that participating in the ODL Admin Meetup the next day is completely free. Don't miss it if you're running an ODL yourself (or plan to do so).
As of October 21st, 2013, the border:none 2013 is COMPLETELY SOLD OUT. There are no tickets available anymore. We are sorry if you didn't manage to grab one. But please stay tuned – it may well happen that we're going to continue border:none.
You may, however, try your luck and just drop in on Friday, hoping that someone else doesn't redeem his ticket. We can't promise you anything, though!
Speakers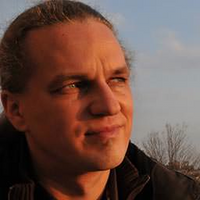 Andre Jay Meissner
Jay is a passionate tec diving enthusiast currently working at Adobe, where he focuses on web and mobile technology. In his spare time he fuels LabUp! http://lab-up.org, a nonprofit helping to establish and promote Open Device Labs to ultimately help the web forward. Check out http://OpenDeviceLab.com and make sure to test your stuff on REAL devices!
"The Future Of Digital Layout: Cutting-Edge CSS Features"
10:00 - 10:45h
Designing the web can be very cumbersome. Things tend to get out of hand when more advanced visual techniques such as those known from classic media are to be applied. Add in a variety of viewport sizes and you are either lost or doomed. Now, new CSS features allow us to treat the web as a first-class design surface: wrap and clip text around custom shapes, blend together background images and gain much better layout control for your responsive design. Let's take a look at CSS Shapes, CSS Regions and background blend modes!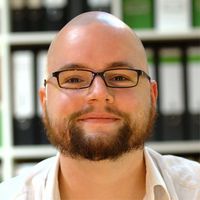 Tobias Baldauf
Tobias is a freelance web-performance consultant with a passion for full stack web development. He created vital interfaces for train-operations all over Europe, tools for the world's largest peering platform and gave talks on CSS & web performance optimization. As former lead web-developer for eco, the umbrella association for German Internet business, he maintained servers, websites & web-apps with an agile, cross-functional team of dedicated admins, designers & developers.
"Mobile Web Performance Measurements"
11:00 - 11:45h
Web developers use private & open device labs mainly for RWD testingon a plethora of devices. Few developers configure devices to offer debug output & even fewer attempt to retrieve real performance data from devices.
Yet, when site performance is poor, only a fraction of visitors will wait for a site to finish loading: bounce rates soar to more than 70% after only four seconds of page load time.
While mobile carriers promise improved mobile web performance by offering higher bandwidths, the physical limitations of connection latency deny significant page load time improvements beyond 5Mbps.
To help developers optimize web performance and thus improve user satisfaction & conversion rates, we will explore proper mobile performance testing using real devices & networks.
Learn how to connect iOS & Android devices with WebPagetest, apowerful open source performance monitoring solution, to test website performance & retrieve detailed data.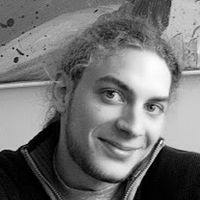 Rodney Rehm
Rod is a full stack web developer, enjoying to create tools that not just work, but work well. While having worked on the web for a decade, it's only been last year that he started sharing his ideas publicly. With utilities like URI.js and jQuery contextMenu and articles like Designing Better JavaScript APIs he's trying to make the web a better place. (for himself, because he is a selfish bastard :)
"Coping With The Broken Web"
12:00 - 12:45h
The web is growing fast. Every other week new proposals, specifications and implementations pop up - being developed concurrently. It is getting harder and harder for developers to grasp specification and implementation details across the various rendering engines.
We'll be discussing how developers can familiarize themselves with a new topic and thereby find browser bugs and shortcomings in specifications as well as how they can provide invaluable information to the web development community by doing this and thus, help the web move forward.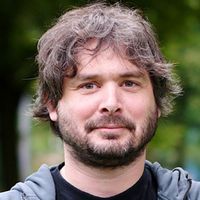 Vasilis van Gemert
Vasilis van Gemert is the principal frontend developer at Mirabeau in The Netherlands where he works for clients like KLM and ING. He's a board member of Fronteers, the Dutch trade organisation of front-end developers. He writes articles and columns about front-end development and design for various magazines like Smashing Magazine and Webdesigner Magazine, and he's a guest lecturer at the University of Applied Science in Amsterdam.
"Do we have to reinvent the wheel?"
14:15 - 15:00h
The web is weird. We don't know what size the browser of our visitors will be, and we don't know how they will control our work. This requires a flexible kind of thinking, which seems to be unnatural for many designers. In this talk I will take a look at some other disciplines that have been working with flexible canvases or unclear environments, to see if we can learn some things from them.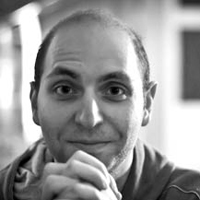 Vitaly Friedman
Vitaly Friedman loves beautiful content and doesn't like to give in easily. Originally from Minsk, Belarus, he studied computer science and mathematics in Germany where he has discovered his passion for typography, writing and design. After working as a freelancing designer and developer for 6 years, he co-founded Smashing Magazine, one of the largest online magazines dedicated to Web design and development. Vitaly is writer, co-author and editor of both Smashing Books. He is now working as the editor-in-chief of Smashing Magazine in the lovely city of Germany, Freiburg.
"Responsive Web Design: Clever Tips and Techniques"
15:15 - 16:00h
Responsive Web design challenges Web designers to adapt a new mindset to their design processes as well as techniques they are using in design and code. This talk provides an overview of various practical techniques, tips and tricks that you might want to be aware of when working on a new responsive design project.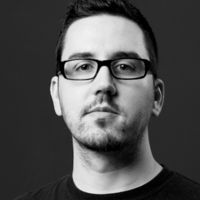 Bastian Allgeier
Bastian is the guy behind Zootool and the creator of a little file-based CMS called Kirby. He has a master's degree in design but works as a web developer for almost a decade. He lingers in the twilight zone between code and pixels and believes that every designer should learn about development and every developer should learn about design.
"Let's build a better web"
16:15 - 17:00h
In times of total observation we must ask ourselves in which direction we want to move the web in the coming years. With the current political situation there's a huge chance to change something. It's time for convincing, open and distributed alternatives to Facebook, Google, Twitter and Co. We need to save the free web – let's do it!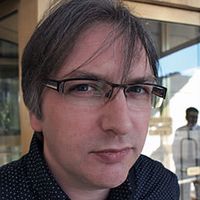 Jeremy Keith
Jeremy Keith is an Irish web developer living in Brighton, England where he works with the web consultancy firm Clearleft. He wrote the books DOM Scripting, Bulletproof Ajax, and most recently, HTML5 For Web Designers. His latest project is Huffduffer, a service for creating podcasts of found sounds. When he's not making websites, Jeremy plays bouzouki in the band Salter Cane.
"The power of simplicity"
17:15 - 18:00h
We're working on increasingly complex websites. There's a tempting to match this growth with increasingly complex solutions. But there's a real value in keeping things simple ... or at least starting things simple. If you can build a solid robust foundation, there's a good chance that your work will be future-friendly.
Schedule
12:45
Lunch Break (not provided)
18:00
Get together, Networking
Locations
The venue: Orpheum-Lichtspielhaus
The historical Orpheum was built in 1910 as a glamorous cinema in the St. Johannis district of Nuremberg. Heavily damaged in the second world war, it got restored and re-opened in 1948. The triumphant advance of television sets forced the cinema to cease operation in the 60s. Since then, it has been a supermarket most of the time, finally ending up as a ruin in the late 90s. After being restored in 2010, again, it has been sporadically used as an event location. Our border:none mini conference will be the last event in the Orpheum before it's going to become a tapas bar by the end of 2013.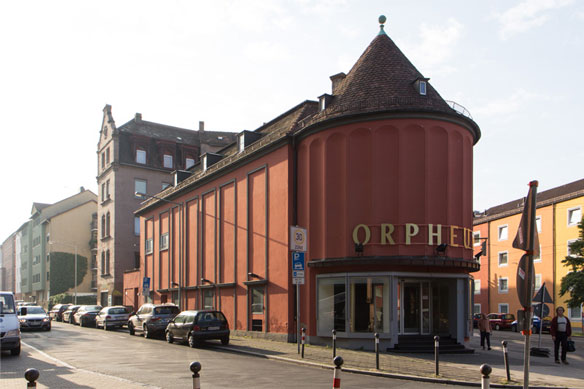 Orpheum-Lichtspielhaus
Johannisstraße 32a
90419 Nürnberg

Hotels
We want to make it as easy as possible for you to find a nice accommodation for your stay in Nuremberg. Therefore, we have teamed up with hotel.de (which is a Nuremberg-based company by the way). We ask you to book your stay at a hotel using the following affiliate link – you will directly support the conference this way, your help is highly appreciated!

Diners
There are lots of nice little diners just nearby the venue, and it's only a few minutes by foot to the city centre, so you will definitely be able to grab some snacks throughout the day (or evening). We've compiled a small list of noteworthy spots as a foursquare list for you.
Links

Conference Lanyrd page
To get at least a clue of who is going to attend border:none 2013, head over to the conference Lanyrd page that we've set up for you. Register there to let others know that you are attending.

Pre-conference warm-up
We're organizing a pre-conference warm-up the evening before the border:none. Of course you might also join us in case you are not attending the conference itself (for example, if you are taking part in the MobileFirst! Night 2013 and are still up for some lively conversation afterwards).
We are meeting at around 8 PM (20:00h) at the Bäckerhof, Schlehengasse 2, 90403 Nürnberg. Please confirm that you are taking part here, as we need the number of people coming to organize everything.

The first ODL Admin Meetup
The border:none 2013 mini conference is preceding the first Open Device Lab Admin Meetup, scheduled for the next day, October 26th, at the Coworking Nürnberg. If you are interested in Open Device Labs, or if you plan to run an ODL yourself, you should definitely attend the meetup as well! Participation is free of charge, but we require you to register for the event. There's also a Lanyrd page for the meetup, so make sure to register there as well.

Nürnberg Web Week 2013
Both the border:none 2013 mini conference and the ODL Admin Meetup take place during the Nürnberg Web Week 2013. There are about 40 different events happening in and around Nuremberg at that time. The web week's website will soon be relaunched – make sure to check out if there's something you might be intererested in.
Partners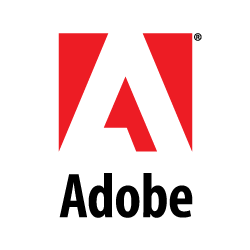 Adobe
Whether it is an app, a game, a video, a digital magazine or any online experience, chances are that it was touched by Adobe technology. Our tools and services enable you to create groundbreaking digital content, deploy it across media and devices and continually measure and optimize it based on user data. We help businesses improve their communications, strengthen their brands, and ultimately achieve greater business success.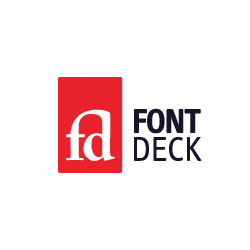 Fontdeck
The professional independent web font solution. Get up and running in 60 seconds with no JavaScript required. Preview all fonts on your site for free, forever, and pay only for the fonts you need. Now featuring exclusive fonts optimised for screens from Fontsmith, G-Type, Colophon, Playtype, Jeremy Tankard, Typejockeys and more.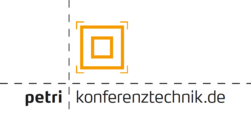 Petri Konferenztechnik
You are looking for a qualified and reliable partner for the technical realization of your event? We create the best prerequisites for it!
Petri Konferenztechnik GmbH ranks among the young and vibrant business companies in the branch that – always at the cutting edge – are able to carry out every event unerringly and reliable: at an international sports event, on significant stages as well as in a meeting room in your company.

GitHub
GitHub is the best way to build software together. Whether it's your company's app, your favorite open source library, or a weekend side project, GitHub helps everyone work better by providing tools for easier collaboration and code sharing on any device. Start collaborating today — open source project hosting is free!

Offscreen Magazine
Offscreen is a new "print-only" magazine that explores the life and work of people that create websites and apps. We want to tell the less obvious human stories of creativity, passion and hard work that hide behind every interface.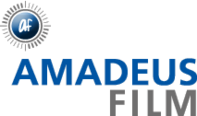 Amadeus Film
Kompetenter Partner für Filmproduktion, Bildtechnik und Rental in Nürnberg

IDEE office-coffee-service
Find my perfect coffee … Joy of life – day after day

nuernberg-startups.de
Ein Blog der Internetszene rund um die Metropolregion Nürnberg.
Become a partner
Do you want to support the border:none mini conference and become a partner? You're awesome! Please send us a short email and we'll get in touch with you as soon as possible. Let's find out how we can team up!
Are you press?
Please let us know if you want to cover our event and need something like the border:none logo, images or anything else. We appreciate any form of announcement or report and are happy to help you out with whatever you need!